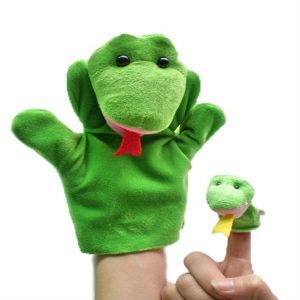 Helping hands chain: Trace and cut out multiple hands for each child. Place them in a pocket or baggie that is easily accessible. As you recognize a child's helping hand behavior, have the child get a hand from their pocket and connect it to the class's helping hand chain. The hands can be placed on the wall to wrap around the room. On a regular basis, celebrate how long the helping hand chain is getting!
Hand puppets: Create character puppets by having children color or paint the pictures, cut them out, and glue them to craft sticks. Once dry, children can bring their puppets to circle time and act out the story while you read the story aloud. Later, they can take the puppets to the story area or puppet center.
Moving to music: Choose songs with lyrics that encourage movement. Before you start, remind the children that they need to listen closely to the words so they know what actions to take. Classic songs like "Head, Shoulders, Knees, and Toes" work well. Many children's CDs have great songs that involve following directions (try "My Ups and Downs," and "Hands Are for Clapping," by Jim Gill). Do the motions with the children as you listen to the songs. After listening to each song several times, children will build confidence and know which motions to do on their own. Point out to the children that they know what to do because they are being such good listeners.
Pass the feeling bag: Place an assortment of scenario picture cards in a bag. As music plays, the children pass the bag. When the music stops, one child picks out a card and identifies it. Have the child talk about how each scenario or item makes him feel and why. Allow children to take turns pulling out picture cards.
Feeling faces collage: Have children cut out different feeling faces from magazines. Mix nontoxic glue and water together in a small bowl. The children put the pictures on top of a piece of paper, take a paintbrush and dip it in glue solution, and paint over their pictures. They can hang their feeling faces collages on the wall.
Share box: Create a special share box that is only introduced during circle time. Children can decorate the box with primary colors or with a bold pattern. Inside the box, place items that can be shared, such as musical instruments, a box of chunky sidewalk chalk, playdough, or several sensory bottles.
Singing: After a story about sharing with friends, sing "Share, share, share your toys; share them with a friend. Share, share, share your toys, let's all play pretend," to the tune of "Row, Row, Row Your Boat." After a story about feelings, sing "If You're Happy and You Know It" with a variety of emotions and body gestures.
Note: Adapted with permission from Book Nook, created by the Center on the Social and Emotional Foundations for Early Learning. To use Book Nook guides at no cost, visit http://csefel.vanderbilt.edu/resources/strategies.html#booknook.
source: https://www.naeyc.org/resources/pubs/yc/mar2018/promoting-social-and-emotional-health